When it comes to whisky a.d.rattray sure do know their stuff. establishedway back in 1868 (not long until they are celebrating 150 years!) their goal is to delight whisky enthusiasts all over. they are at the top of their game supplying excellently balanced own label blends and single malts, not to mention their specialism in unusual and rare casks, yum.
It was in the late 1800s that a.d.rattray began to represent many renowned highland malt distillers. The most notably being stronachie. The company sold bulk whisky to West of Scotland wine and spirit merchants, publicans and the main Scotch whisky blending houses in and around Glasgow.
After changing hands in the 1900s the company has now returned to the family and is owned by Mr Tim Morrison, previously of Morrison Bowmore Distillers and fourth generation descendent of Andrew Dewar Rattray. It was in 2004, born out of tim's extensive knowledge and expertise that tim bottled a selection of his own handpicked stock of whiskies and the a.d.rattray cask collection was born.
You can't fault their purpose – to bottle unusual and exclusive casks of Scotch whisky.
a story of discovery, legend and passion. With an eclectic and prolific range of craft beers we are proud to have williams bros. available at the left bank. Their history is quite something, starting out from a homebrew shop in glasgow moving to alloa– the old brew capital of Scotland.
Things began to turn for Williams bros. in 1988 when they had a visitor to the shop who held a translation of the recipe for 'Leanne Fraoch'. The recipe had been handed down through the generations and she was keen to sample the historic brew with her family. She shared the recipe in exchange for the knowledge on how to brew the ale. From this simple exchange Williams bros. developed their 'Fraoch' Heather Ale using this ancient process, rumoured to date back to 2000 BC!
After a few years, the brothers worked on expanding their range of historic scottish brews.
based in the east end, green city wholefoods is run as a workers co-operative,  democratically run by all its members. they've been on the go since 1978 and specialise in vegan, organic and gluten free foods. they have made a point not to sell any products which have been tested on animals and they only sell goods completely suitable for vegetarians.
so, really it was a no-brainer to work alongside them! we love their alternative business model and the fact that they have total respect for everyone they work with, from customers to suppliers and of course the wider community. It's hard to believe green city started out splitting sacks of lentils and peas to supply wholefoods to local shops and restaurants.
In lieu of year 10 of our opening: re-done, visually astonishing, floors! They almost look brand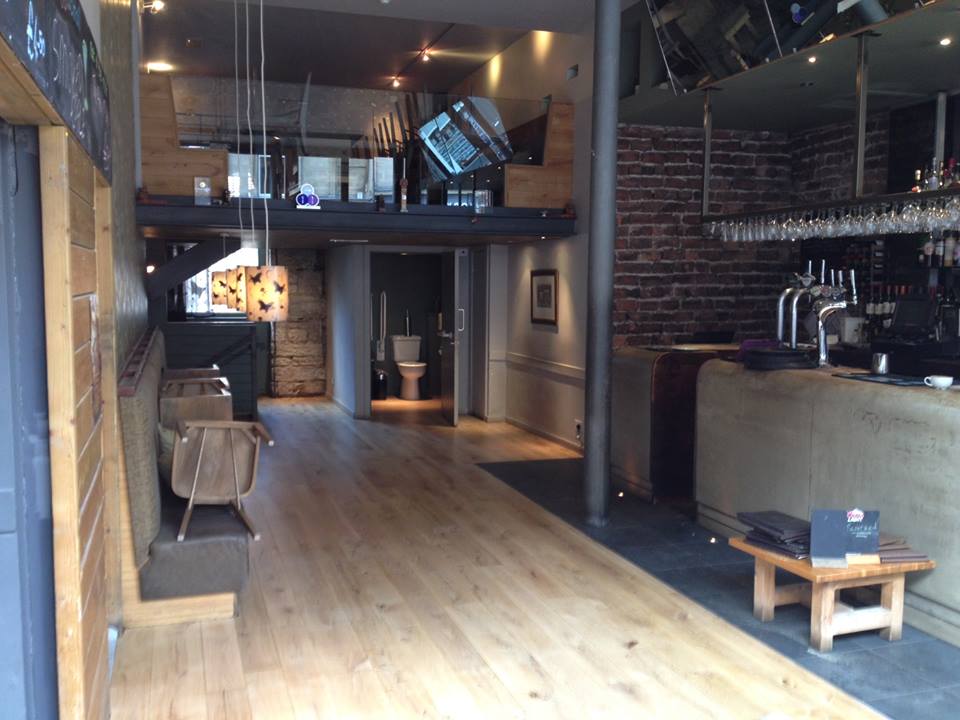 new.
here at the left bank we pride ourselves in using local suppliers to bring you our delicious menus.
over the next few months we'll be telling you a little more about some of the fantastic suppliers we use. this way you'll have a better understanding of the journey from source to plate (to belly!).
first up is family business bernard corrigan. founded in 1949 these guys started out on the banks for the river clyde in modest premises by the old glasgow fish market. the fish market was housed in the briggait before closing in 1977(http://www.clydewaterfront.com/clyde-heritage/victoria-bridge-and-the-merchant-city/the-briggait). during their expansion bernard corrigan moved to various premises before settling on howard street (glasgow city centre) in 1982. they're still there today.
with the quality of produce it isn't hard to understand why we and our sister venues love Bernard corrigan, not to mention the many other top Scottish restaurants who use them.
their offering is unrivalled, so whether you're chowing down on our west coast mussels or north sea haddock you won't be disappointed. all produce is farmed directly from scotland's coastal fishing ports and both the Shetland and hebridean isles. there's fresh for you!